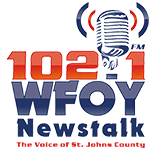 WFOY 102.1 FM & AM 1240
News & Sports for St Johns County
Weekday Program Schedule:
6a-7a      Wall Street Journal This Morning (Live)
7a-8a      America's 1st News (Live)
8a-9a      The St Johns County Morning News (Live & Local)
9a-12N   The Ramsey Show
12N-3p   Don Bongino (Live)
3p-6p      The Chris Plante Show
6p-9p      The Joe Pags Show
August – November Friday Nights: St Augustine High School Yellow Jacket Football Coverage!
Welcome to Newstalk 102.1 FM WFOY, serving St. Johns County for more than 80 years!
On August 5, 2021, Phillips Broadcasting, LLC of WFOY AM 1240 St Augustine and W271CJ St Augustine, FL filed an application with the Federal Communications Commission for Assignment of Authorization. Members of the public wishing to view this application or obtain information about how to file comments and petitions on the application can visit https://publicfiles.fcc.gov/am-profile/wfoy.
© 2021 Phillips Broadcasting, LLC does not discriminate on the basis of race, ethnicity, and gender.
WFOY FCC Public Inspection Files

*The WFOY  High School Football Broadcasts are a production of and broadcast by
Phillips Broadcasting, LLC and is for the Private use of our audience. Any other use of these broadcasts without the consent of
Phillips Broadcasting, LLC is strictly prohibited.